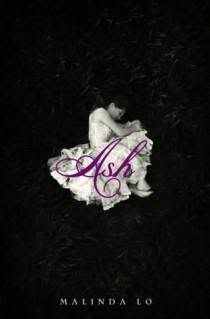 Ash
by Malinda Lo
Page Count:
264
Quote:
"Perhaps she would remember how she had once wanted to trade her life away for an eternity she could not imagine. But she disocovered that the opposite was happening: With each passing day, she wanted more time."
Rating:

Description: "
In the wake of her father's death, Ash is left at the mercy of her cruel stepmother. Consumed with grief, her only joy comes by the light of the dying hearth fire, rereading the fairy tales her mother once told her. In her dreams, someday the fairies will steal her away, as they are said to do. When she meets the dark and dangerous fairy Sidhean, she believes that her wish may be granted.
The day that Ash meets Kaisa, the King's Huntress, her heart begins to change. Instead of chasing fairies, Ash learns to hunt
with Kaisa. Though their friendship is as delicate as a new bloom, it reawakens Ash's capacity for love- and her desire to live. But Sidhean has already claimed Ash for his own, and she must make a choice between fairy tale dreams and true love. "
Review: Ash is advertised as "Cinderella Retold" on the front cover. Yes, it has the orphan girl who lives with her horrible stepmother, the chores, the fairy godmother, the beautiful dress, the ball and the prince. But that's where the comparisons stop. Ash is told in a setting where fairy tales and magic live on, but faintly. There are greenwitches, who still practice the magic and heal with herbs and potions. But now everyone is listening to local doctors and philosophers.
Ash's mother, who dies on the first page, was believed to be a sort of greenwitch, for she carried a herbal book, and was believed to have magic in her. Ash's mother, Elinor, tells her fairy tales and warns her of fairies and their promises. A few months later, Ash's father marries Lady Isobel, and then he dies. Lady Isobel makes Ash their maid/servant, and you know the rest. :)
At night, Ash will walk to her mothers grave and see the mysterious Sidhean, who is a fairy and promises her an out of the miserable life she is living at Quinn House. Ash dreams of the possibilities with Sidhean. But then Ash meets Kaisa, the King's Huntress. Kaisa teaches her how to ride horses and invites her to the ball and to be on the royal hunt with her. But now, Ash doesn't have to dream, since her life with Kaisa is a reality.
Ash is a wonderful book for someone who enjoys legends and myths, because the characters usually tell others their favorite story, fairy tale, etc. There's also a love story in Ash, but don't be waiting for a big OMG moment, because there is none. It's kinda slow at first, but it picks up pretty quickly.